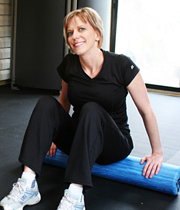 Chris Heidel of Libra Fitness
I wrote a pair of guest blog posts for Chris Heidel at Libra Fitness. The second was published today.
My first post for them was a review of the movie "Simply Raw: Reversing Diabetes in 30 Days". While I am not diabetic, I am unquestionably headed there if I don't change how I eat. Today's post for Libra Fitness explains how I developed a sugar addiction, and details my current struggle to tame the sugar monkey on my back.
---
I told an acquaintance recently that I was trying to modify my diet. He misinterpreted that in the conventional way, assuming I was "on a diet", and asked if I was using any particular one. I told him it was the "Don't Eat an Entire Package of Cookies Every Day or So" Diet.
Does that work? Well, I was astonished to discover today that I've lost fifteen pounds in the last four weeks. I hadn't been intentionally trying to lose any weight yet, only control my sugar consumption. (While that's still an acceptable weight loss rate for someone with my weight and body type, I would never try to lose weight that fast intentionally.) I haven't exercised, I haven't restricted anything but a modest range of junk foods (primarily sweets), and I've never felt hungry. (Sugar cravings are of course very different from hunger.) Pretty amazing.