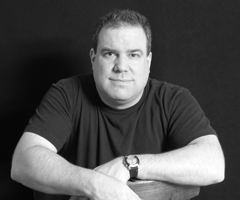 Ethan Moore is a writer but also at times a comedian, a photographer, a programmer, a web designer, an entrepreneur, a scientist, and a teacher and tutor — but he's always a gentleman and a scholar.
Ethan has a Ph.D. in physics, specializing in Soft Condensed Matter Physics.  He decided to leave academia to pursue his own business and artistic interests.
Ethan grew up in southeast Michigan and now lives in Austin, Texas with his tuxedo cat Tik-Tak. (The cute kitten with the quizzical look in the site's logo is Tik-Tak when he was about ten weeks old.)
Because feedback is crucial to a writer's creative development, Ethan welcomes constructive criticism of his work.
You can contact Ethan at ethan@vesperfire.com.

All original content on this blog is copyrighted by Ethan Moore and may not be reproduced without permission. See the Policies page for more information.