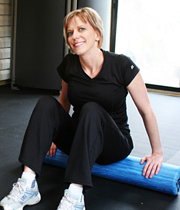 Chris Heidel of Libra Fitness
I have written a pair of guest blog posts for Chris Heidel at Libra Fitness. The first was published today.
Libra Fitness provides private fitness services in their private in-home studio in north-central Austin. Unlike commercial gyms, they provide a more personal experience in a non-threatening, quiet, and caring in-home environment. Their Mission: To provide the tools necessary for you to consistently and confidently embrace and maintain a well-balanced lifestyle that includes healthy eating and exercise as critical components.
My first post for them is a review of the movie "Simply Raw: Reversing Diabetes in 30 Days", which they recently showed as a special event. A simple summary: I was impressed enough to immediately order the DVD for my father, who has type-2 diabetes.
In next week's blog entry at Libra Fitness, I will explain how I developed a sugar addiction and tell of my current struggle to finally contain it.